Meet Our Busy Bees
You will find two types of honeybee hives at ICG.
At the north end of the Kitchen Garden, you will see a Top bar hive perched atop the pergola. Top bar hives are an alternative method of beekeeping that is more conducive to bees' natural systems, by allowing them to build comb exactly the way they like to. It is believed that top-bar colonies are better able to stay healthy and strong because they are not confined to the smaller comb size and square frame shape designed to maximize honey production in a Langstroth hive.
The Langstroth hive, located atop the pergola between the Kitchen Garden and parking lot, just south of the farm stand, holds a colony that was rescued and relocated from the Stewart Park main pavilion in summer 2014.
Meet our Royal Hens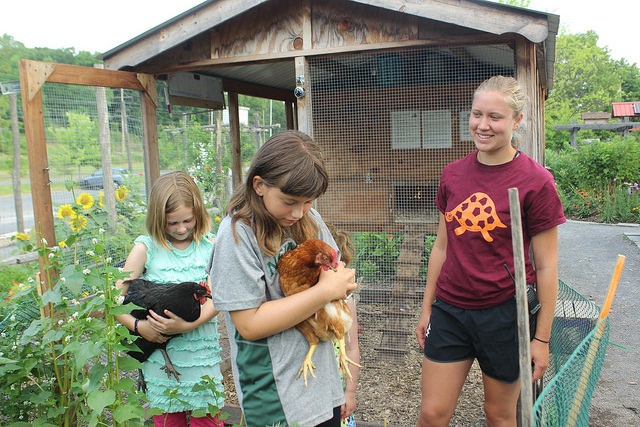 Chicken princesses and queens are an important part of our Garden Ecosystem.
Cluckingham Palace is a moveable chicken coop designed with a raised bed footprint underneath, to allow its easy movement from one bed to another. Our royal hens scratch and fertilize the soil, removing weed seed and grubs, while providing nutrients, aeration, and organic matter to the soil. The chickens provide eggs, antics, and numerous educational opportunities for visitors and program participants.
Our royal hens come each season to delight our visitors and help us with important garden work.
Thanks to Alan Vogel and friends for building Cluckingham Palace, and our incredible moveable chicken tractor; to Marvin Pritts for building and installing the beehives, and serving as our beekeeper and bee educator; and to Busy Bee Market in Interlaken for sponsoring the two honeybee hives.
Please get in touch if you would like to sponsor Cluckingham Palace and our Royal Flock.